Material: soft and warm, easy to clean, comfortable to wear
Size: Please measure the size of your pet and buy according to the size chart; if your pet's size is between two sizes, please buy the larger size
Suitable for all kinds of pet dogs: different sizes of shirts are suitable for different sizes of dogs, such as size xs-xl Design for small dog like Teddy, French Bulldog, Pug, Schnauzer, etc.;Size 2XL-3XL Design for big dog please choose the appropriate shirt size according to your dog's specific size
Please refer to the following table for details
We focus on pet fashion and pet street wear, please visit Puppy Street Wear Store for more new arrivals.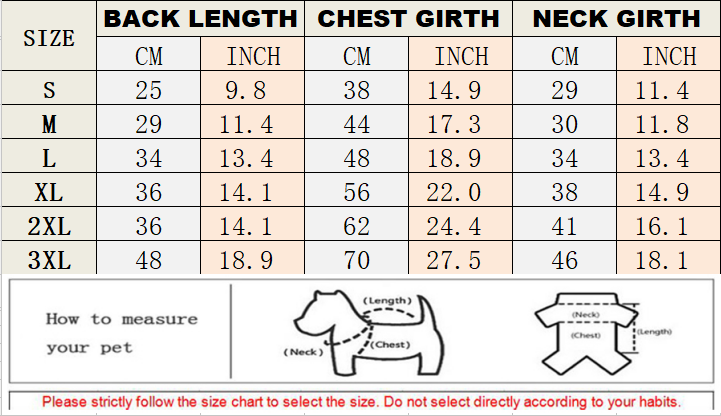 ✔️ FREE Shipping – Enjoy! ✔️
Be part of our community and check out the latest customer reviews and posts on our fun Instagram page Puppy Streetwear.
Follow us and don't miss the best deals at the best prices.
You can also contact us on Facebook (Puppy Streetwear Boutique).
We offer free shipping worldwide on all orders, plus you can sign up for our newsletter and receive a one-time discount for your first order,
and you will never miss the latest dog fashion trends on Puppy StreetWear.
ABOUT THE PUPPY STREETWEAR BOUTIQUE
Visit the Puppy Street Wear Boutique, temple of the trendy Dogs Lovers. and discover our Dog Clothing & Accessories.
Buy this Dog Fashion accessory and keep your dog cool in all seasons with our Fashion Dog Clothes and don't miss the latest dog trends on Puppy Street Wear.
The #DogLovers Fashion Boutique for Dogs which is especially for small dog owners (French bulldog Yorkshire, pug…) looking for quality dog clothing.
👉 Join the WOOF Fashion for a Stylish and Fashionable Dog all year round
👉 Enjoy & Shop on PuppyStreetWear.com!